User management: one tool for every application
Manage users and their data, ensure GDPR compliance
Manage users and permissions for your web apps
– without losing the overview.
When handling company processes, a great deal of internal data and, in most cases, even more external identity data can accumulate. It can consist of customer names, the corresponding account names, the names and addresses of project partners, suppliers and even temporary employees.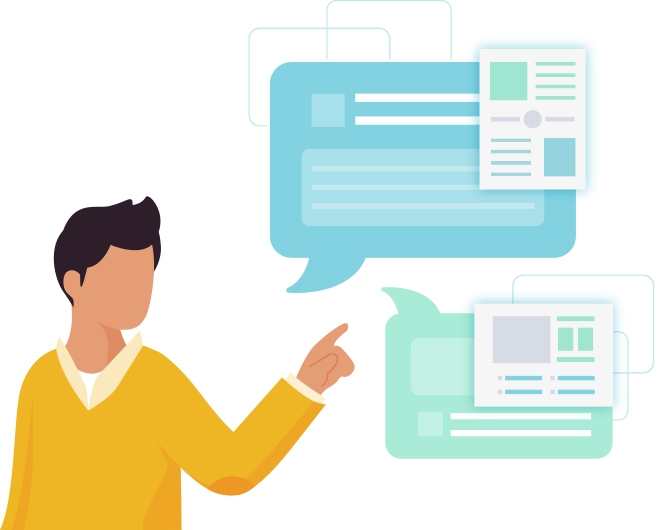 Today's cloud technologies open the door to new ways of working. As a result, identity data becomes widely distributed on the net. Companies manage it more or less automatically, but do not manage it centrally in most cases. In some organisations, such as associations, neither may be the case. What happens then?
Central user management is the key to efficiency and security
The application databases contain duplicates of user names and other data. Let's imagine, for example, a potential customer who registers for a web demo. Perhaps this very customer already exists in the CRM system or maybe the corresponding company name exists, but this particular customer has not appeared before. In practice, the corresponding data will be compared manually. If this prospective customer becomes a buyer, an ERP system takes over their name and address to process the sales workflow. The review of these processes to check for data inconsistencies, duplicates or "dead ends" can be difficult. Not only that, but auditing requirements and GDPR conformity should also be taken into account.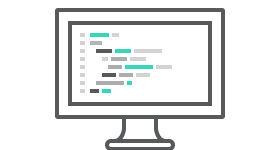 Managing identity data on the internet – simply, securely and in compliance with data protection laws
Whenever you register users for a web app and process identity data, you are obliged to handle user data in accordance with data protection regulations. In the case of decentralised administration using various systems and applications, user data often becomes independent, so to speak. Any change in information will only affect the local application. In the next application, however, the data record looks different, because no change has taken place in that application.
Eliminating inconsistencies through global user management
How does it work? Central identity management with a single administration tool ensures data consistency at all levels. Good user data management is accessible from anywhere and at any time: online 24/7.
Constant reconciliation of user data brings all applications to the same level in terms of keeping data up to date. The data objects (names, first names, email address, etc.) themselves do not even have to be in the same format, because the backend machine iDOME takes care of this in real-time in Login-Master. It synchronises data of all formats in such a way that it doesn't matter whether it's a source or target application, both can be processed and interpreted. Manual data synchronisation is now superfluous. This is particularly interesting because it relieves a burden on your IT as soon as you need a regular synchronisation of user data and there are many different data sources.
Keep control of all data with modern user management 
The central reconciliation of data from or for several systems offers the advantage of working in a more simplified manner while ensuring GDPR compliance. This method also significantly simplifies the tasks involved in audits.
Login-Master acts as an intermediary between the user, the integrated self-service and the legacy applications that process user data. Regardless of the type and age of the applications, Login-Master can communicate with them and exchange sensitive data.
Login-Master
– the central hub for GDPR compliance: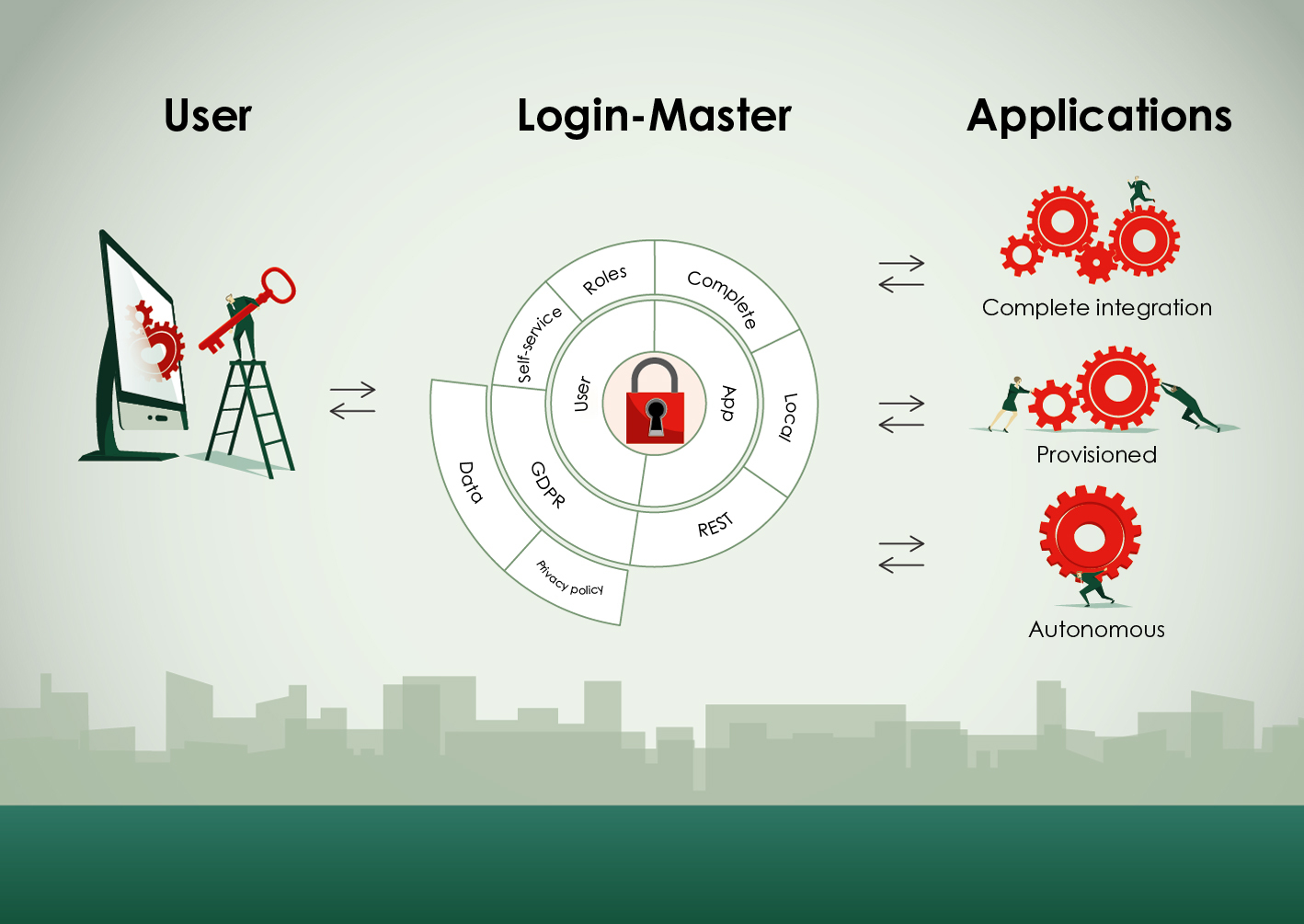 There are three different levels:
Applications
Requisition and further processing of user data
What makes this innovative is that the applications themselves do not manage generic identity data, passwords or permissions. Even if it is an autonomous application that does not allow modification or external storage of data, Login-Master can still interact with it, and at least ensure that, according to the General Data Protection Regulations, all applications comply with a potential deletion request from a user. Login-Master informs such applications if a user wants to delete their personal data.
Central user management
– these Login-Master components make the difference:
Registration
Registration is used to record user data. It can be handled via identity provider or social network. If perform registration yourself, we can offer you interfaces. This way, Login-Master receives all identity data. This module is very important for GDPR compliance.
MyProfile application
The MyProfile application offers users a self-service that goes above and beyond GDPR requirements. Users of a web app can correct, modify or submit a personal data deletion request.
Workflow Engine
Workflow Engine is part of the Java-based framework iDOME in Login-Master and provides for the regular synchronisation of identity data in different source and target systems. Beyond pure data management, iDOME is able to perform many automated background processes. These offer users improved service quality and greatly reduce the burden on support.
Our goal: to manage internal and external identities efficiently and securely.
Gain the freedom to focus on your core business. Contact us to take advantage of the benefits of central user management.
Improve your user experience and relieve your support team.