Login. Self-Service. Data Protection.
Keep your users happy with GDPR-compliant user management.
One solution –
to meet your data protection requirements.
Because with it, you ensure every EU resident's right to a GDPR-compliant management of their data in your systems. No matter how many or for which identities. And no matter which or how many applications. From now on, you work with a single, secure point that centrally manages identity data.
The General Data Protection Regulation doesn't just safeguard personal identity rights. It also indirectly helps you improve the user-friendliness of your systems. For example, with self-service, which offers users the opportunity to maintain their personal data themselves and to retain control over it. But even without self-service, you remain true to the principle of managing identity data and ensuring data privacy compliance.
Find your GDPR requirements in Login-Master:
GDPR Require-ments
Technical Configuration with Login Master
Features in Login Master
Article 7
Approval of user data storage prior to registration and withdrawal of approval
For registration*:

Check box for approval
Link to the text on data protection policy

In "My Profile":

Data protection policy with date and time of approval
Button to launch the "forget me" process

Article 18
User access to "My Profile" (self-disclosure, self-service)
A user can:

Read in the data protection policy about what private data will be used for.
Change or delete information.
Have data sent to themself by e-mail or download it (in .csv format).
Issue an order to have all private data deleted.

Article 5
Consistent data retention when using identity data in other applications with the use of compliance rules
Login-Master

Handles all communication with the user or administrator and transmits necessary information (e.g. from registration) to applications.
Coordinates connected applications if they collect information about the user. For this purpose, it is sufficient that the applications provide a simple interface to query/delete the stored, personal information.

Article 22
Auditlog: Documentation of changes to identity data and their processing
Each change is recorded with a time stamp, changing the (person / process) as well as the old and new value.
Article 8
Age verification, especially for checking the age of minors
The "Postident" procedure is optionally available via Login-Master; among other things, it can be used to confirm the age of a user.
Table 1: Technical implementation of GDPR regulations in Login-Master *Already registered users can also give their consent to data storage and processing. This comes after migrating their data from legacy systems to Login-Master. This is done as part of the registration process for new users. The next time an "old user" logs in, a mask requests the declaration of consent. The user is informed about the migration itself by e-mail.
Advantages for admins through automation
We take the implementation of data protection guidelines very seriously and offer a separate User Self-Service area for it. It enables the users of your web applications to keep control of their personal data. And we've automated it so that administrators don't have to do much work.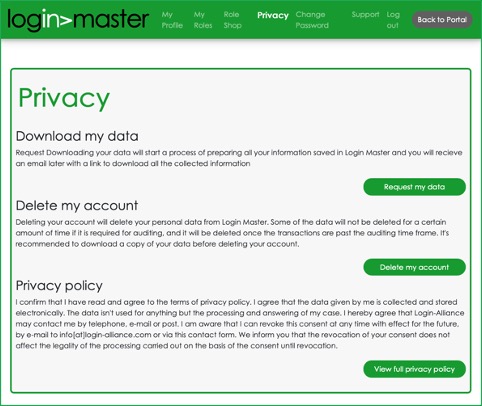 Presentation of the privacy implementation in our Login-Master demo version
Login-Master makes the difference.
Why?
Login-Master offers other GDPR-relevant functions in addition to the important user self-service.
Which functions?
Data synchronisation in realtime and Auditlog.
Furthermore, it offers interesting extensions to verify identities and specific characteristics. For example, age verification or verification of identity documents via online identification. This is the only way to achieve full GDPR-relevant compliance without making compromises – keeping it all straightforward and highly automated.
Data protection for users
registration and self-service
Data synchronisation
in real time for all systems and applications
Auditlog
to prevent the manipulation of sensitive user data
Why use GDPR standalone solutions and data silos when the data protection requirements for managing your identities are also available as a package?
Discover the benefits:
Registration
Registration process incl. login / social login
Adoption of identity data from other sources
Learn more about it: Registration

Self-service
Data protection declaration
Identity data overview
Data portability
Right to be forgotten
Request for deletion
Access rights overview (role shop)
Learn more about it: Self-Service

Would you like to learn more about this topic?
In our blogs, we address the topic of the GDPR as it relates to a variety of points: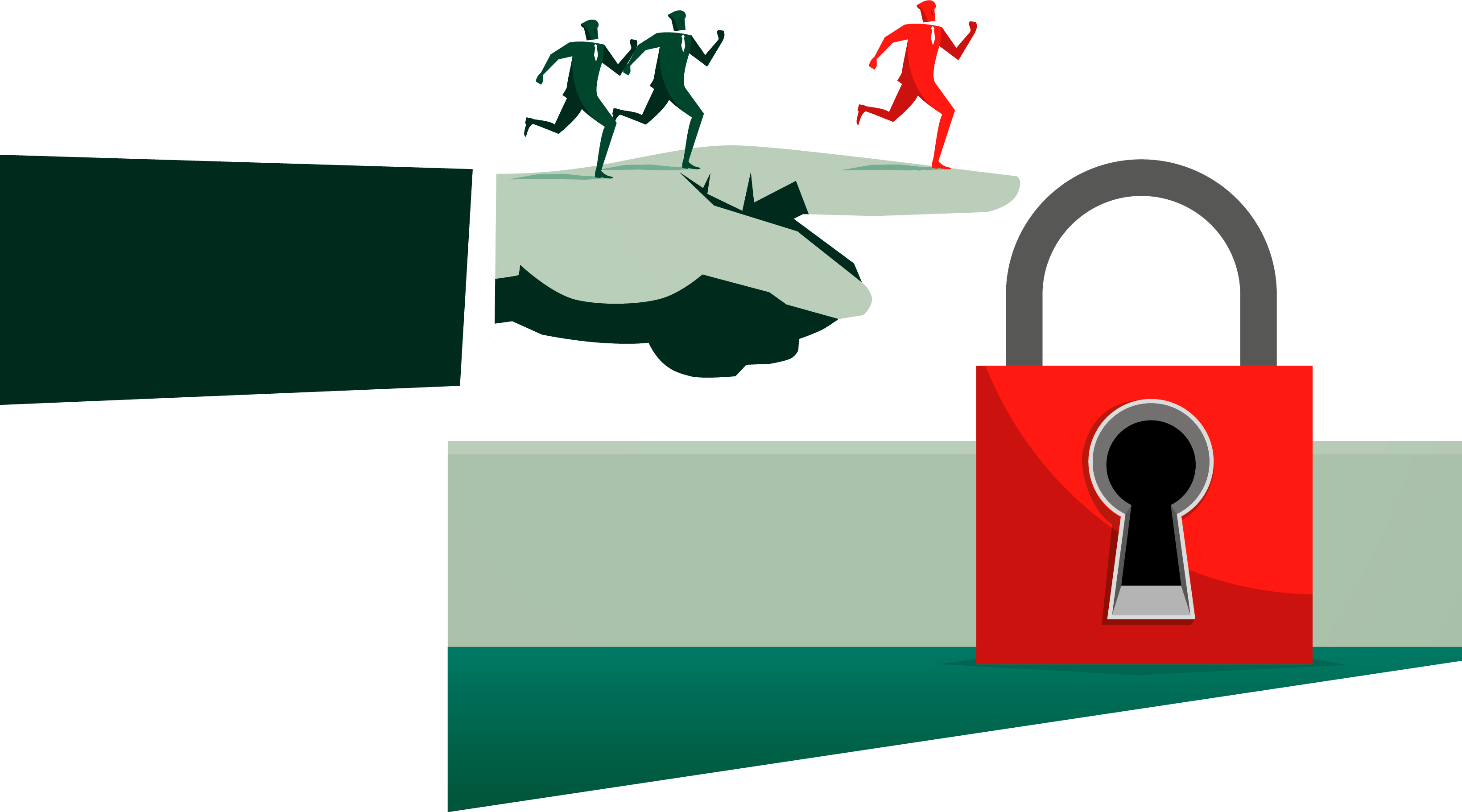 Interested in an introduction to the GDPR and identity data?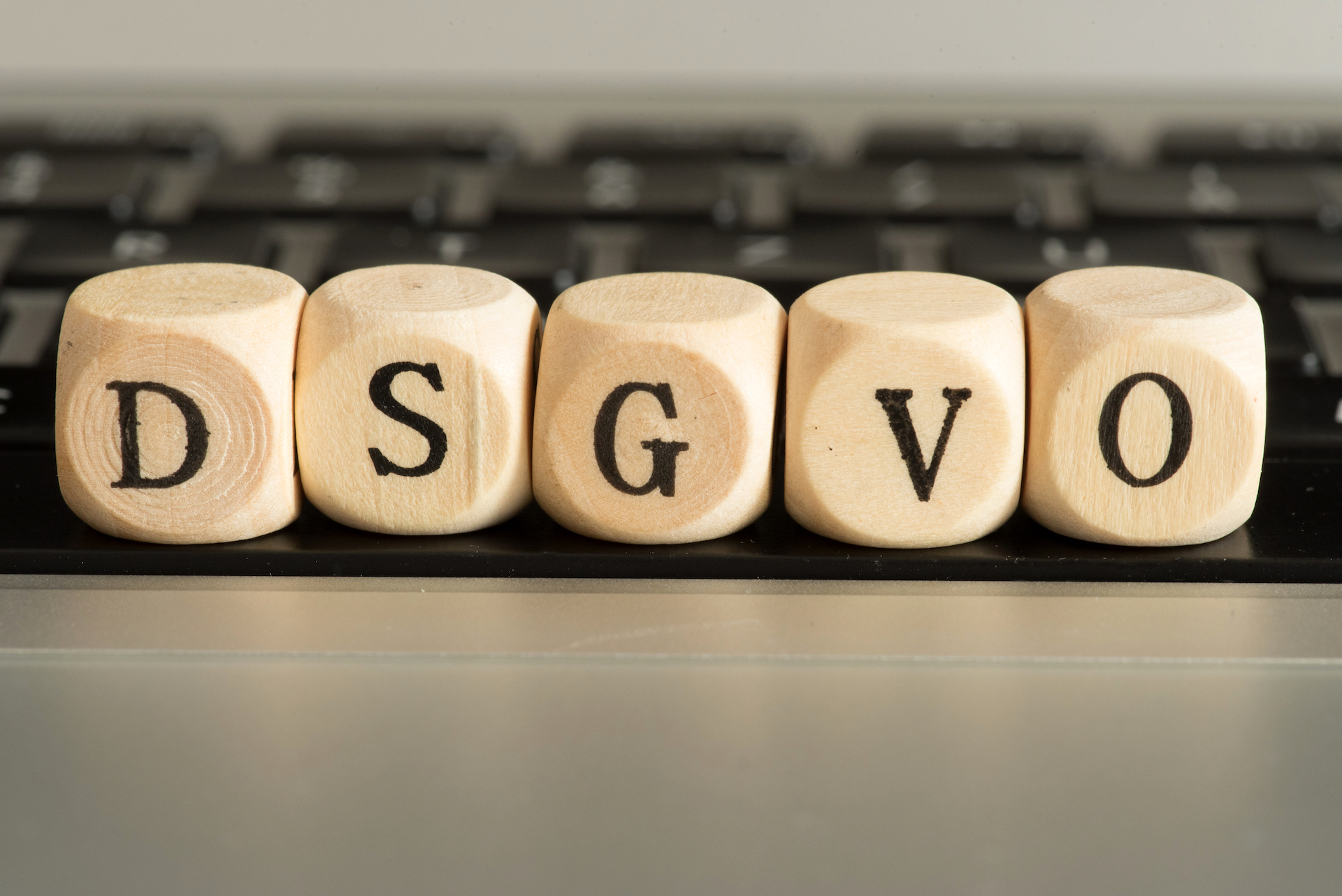 Do you want to check whether your identity management already implements the GDPR?
Implementation of the GDPR in a secure place.
Protect your user data and web applications with Login-Master. Contact us or get to know Login-Master in a live demo.
Improve your user experience and relieve your support team.