Achieve the best performance and reliability in your operations.
From Keycloak Sentinel to Autoscaling.
Make SSO operations more reliable through alerting capabilities and continuous metrics measurement.
Do you already work with a professional support team? They serve as your fallback when an incident happens.
In addition to a well-established infrastructure, you need the best possible protection for your applications and users so that nothing goes wrong.
You've come to the right place: In addition to retroactive event monitoring using logs, we also offer proactive monitoring for Keycloak and Login-Master instances. So that you can recognise critical situations early and take preventive action.
Automated early detection…
…is a result of measuring operating parameters and key figures proactively to protect your web applications and services from dangers and overloading.
After all, the stakes are high when it comes to securing digital identities and user authorisations. This way, you can detect data loss, espionage or a DDOS attack early enough to avoid greater damage.
Our monitoring: well thought-out and innovative.
Monitoring starts with checking the login page and testing whether it is actually functional. To ensure that the login processes work smoothly, we have implemented Keycloak Sentinel. It acts as a guardian, repeatedly checking whether the login always works at short intervals, as well as how quickly the whole thing runs.
Operational control for Keycloak and Login-Master
– our measures at a glance: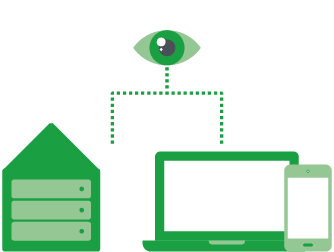 Monitoring instruments:
Blackbox monitoring checks whether the login page is online.
Functional or whitebox monitoring simulates logins as a "Keycloak Sentinel" at short intervals to check whether login is possible and how quickly users can log in.
This monitoring option runs 24/7 year-round and provides the appropriate alarm functions for support.
Performance and added security:
Autoscaling (scheduled for 2022): Login-Master automatically detects a server overload and adjusts the capacity.
Adaptive authentication (scheduled for 2022): using AI, the system recognises different users and adjusts the login options (MFA, OTP, …) accordingly.
Secure your productive applications with these IAM building blocks:
The security of your users is of utmost importance to us. That's why we work every day to make the identities in your applications and web services more secure with Login-Master. Because it is the only way to create trust, security and convenience for your users, so that you are in the position to grow your business or digital offerings, knowing that your users will continue trusting you.
Login-Master offers maximum reliability and the best performance from the very beginning:
PREVENTS

Our consulting and AI-supported analysis

We know how to operate identity infrastructures securely.
We share our many years of accumulated company experience in this field with our customers. Benefit from all the measures in Login-Master for early detection and our excellent Keycloak and IAM consulting for prevention.
ALERTS

Keycloak Sentinel and other alert functions

We have realised that it is not enough to set up a secure infrastructure.
We deliver modern standard protocols that manage the best possible security for login and access processes that put you on the right track. To supplement this, we offer appropriate alert functions that prevent worst case scenarios from occurring.
RESCUES

Professional Keycloak and IAM Support
We are currently expanding these services with our Keycloak and IAM experts, because demand is very high.
In advance, we recommend preventive measures for GDPR-compliant protection of user data, high availability, resilience, and optimal and secure login performance settings.
Build trust with security:
We offer convenience and security for your users that goes far beyond the standard. We would be happy to clarify open questions in a conversation or a live demo on the topics of prevention, monitoring or support.
Get in touch with us!
Verbessern Sie Ihre Nutzerzufriedenheit und              entlasten Sie Ihren Support.